For those who want the fastest way to build and deliver content for the headless web, complete with high observability, you're going to love the updates to Gatsby's Enterprise plan. Here's what we're adding to our Enterprise plan, effective immediately: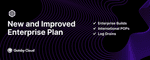 Enterprise Builds
Gatsby Cloud's new and improved Enterprise plan provides an enterprise-specific build environment that boosts build speeds by up to 30% with up-to 8x CPU and up-to 10x RAM relative to the Professional tier. At Gatsby we want to provide the fastest build experience possible. 
Enterprise customers will also receive early access to upcoming build speed improvements such as Burst Builds, which automatically kicks in to boost build performance in those situations when developers need to expedite the process of implementing a change that impacts thousands of pages, and Parallel Uploads, which gives companies dedicated infrastructure to decrease the amount of time it takes to deploy those thousands of pages once they're generated.  According to our early beta testing, a 100k-page site on an Enterprise plan sees a 45% improvement in build times.  That same size site on a Professional plan sees a 65% improvement when moving to an Enterprise plan and taking advantage of Burst Builds.
Global Points of Presence (POP)s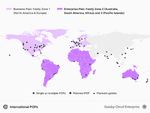 When you run a company with a global footprint, deploying your Gatsby site to a CDN with a robust, global footprint is critical for performance, especially when it comes to serving folks who live in less densely populated or remote areas. Gatsby Cloud currently deploys sites to Fastly's clusters in North America and Europe. This essentially means that any web requests originating outside of those areas must travel further and take longer as they make an intercontinental round-trip to return content to a user's web browser. For folks who live in areas like Africa, South America, and Australia, this lengthy round-trip has a real impact on the user experience. Considering that a website's load time has a considerable impact on bounce rates and, in many cases, an impact on revenue, businesses whose websites perform poorly for folks in certain regions are likely giving up traffic and profits to competitors.
Gatsby Cloud's new and improved Enterprise plan offers an option for an expanded international footprint of Fastly POPs, which means a site on Gatsby Cloud Enterprise is not only deployed to POPs in North America and Europe but also to POPs in South America, Africa, Australia, and the Pacific Islands. This puts a cached copy of your site on more servers that are closer to more people, which results in faster response times, lower bounce rates, and a better overall user experience for your visitors, all of which helps improve your bottom line.
These new international POPs are available for all Enterprise Gold customers at no extra charge, and are available to all Enterprise customers as an additional add-on charge.
Log Drains
Large enterprises often have complex infrastructure setups that give them access to best-in-class tools for things like cloud services monitoring.  Services like Datadog help developers traverse and analyze log data efficiently so they can identify, troubleshoot, and remedy issues quickly.  The ability to explore log data with specialized tooling is critical for composable architecture because these logs often help you trace issues across multiple disparate systems.
Gatsby Cloud's new and improved Enterprise plan includes Log Drains for Datadog. These drains let you send your site's hosting log data to a specialized system designed for inspecting and analyzing them so you can take action quickly.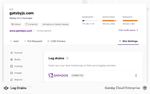 This simplifies that process, allowing you to focus on what really matters: your website. Being able to track things like visitation rates, status code response, IP ranges, and so much more will enable you to make the most powerful decisions possible for your site. As of right now, we will be launching log drain integrations exclusively with Datadog, with more providers to come in the future.
Already an Enterprise plan subscriber? Get started with Log Drains on DataDog here.
The Bottom Line
If you want the fastest publishing pipeline, with a global reach, and self-service access to hosting logs, then the Enterprise plan is for you. Contact us today to get started! We're excited to bring all of these new features to our customers, and we'd love to hear what you think of all of them.
Don't forget to check out all the other exciting Gatsby product news from Launch Week, tag our main Gatsby account on Twitter (@GatsbyJS) with your thoughts, or reach out to me specifically (@pragmaticpat) if you have any questions.